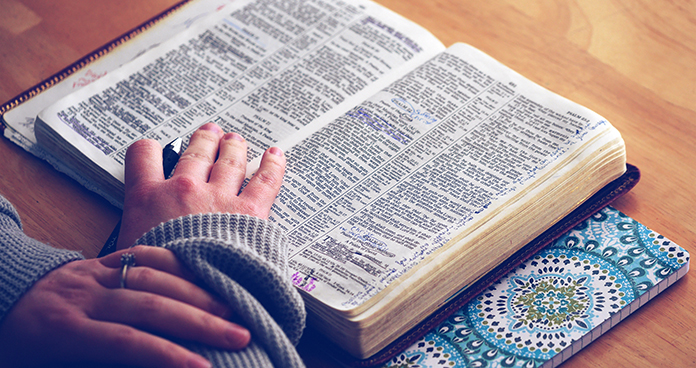 8 Reasons to Start Memorizing Scripture Today
I was a believer for 7 years before I ever memorized and kept memorized a single passage of Scripture. In the Lord's kind providence, however, I've been convicted about and practicing regular memorization of the Bible for the last two years, and the Lord has immensely blessed this practice in my life and ministry to others. Here are eight reasons, from Scripture and my experience, why you should start (or re-start!) memorizing your Bible today:
1. For your joy and blessing: The Scriptures abound with the truth that the Word memorized and meditated on is a great blessing to God's people: "Blessed is the man who…delights in the law of the Lord, and on his law he meditates day and night" (Psalm 1:1-2). The Psalm goes on to describe this person with joy, fruitfulness, and usefulness in all seasons of life. If you have doubts on whether memorizing the Bible is worth the work, maybe you should start by memorizing passages that speak of its great benefits, like Psalm 1, 19, any part of Psalm 119, 2 Timothy 3:16, or John 17:17.
2. Because your excuses are false: I hate to be negative so quickly, but I know what some of you are thinking—"Oh, an article about Scripture memory. Ahh, it's too bad my memory is so terrible, I just can't memorize Scripture!" If you can remember your phone number, spouse's first name, child's sports team, etc., you have a functioning memory. You don't need a great memory to memorize Scripture; you just need a functioning memory. If you've tried and failed to memorize Scripture, it's either your technique or lack of discipline, not your ability. Rejoice that you are not en exception; you are capable of enjoying the blessing of God's Word memorized.
As a side note, most people get discouraged because they try really hard to memorize a passage or verse but cannot remember it a week later. There is a simple reason for this: we must frequently repeat verses we memorize to keep them. I like the 7x7x7 rule: spend 7 minutes getting a verse memorized cold, repeat it 7 times that day (it will only take 10 seconds to do this once you have it memorized!), and then repeat the verse once a day for 7 weeks. Then the verse is yours for life! Repeating a memorized verse is extremely easy, it doesn't even have to be done out loud; the hard part is simply reminding ourselves to repeat it.
3. It will turn your drudgery into devotion: Life can be full of drudgery: monotonous seasons at work, dirty diapers, doing dishes, driving on 526. With no Bible memorized, you are in these moments left to, at best, prayers like "Lord help me get through this," or at the worst, your wandering and often ungodly thoughts. But if you have the Word memorized, these moments can become times of devotion to and fellowship with God. Scripture memory lets the Bible invade all the moments of our lives, the good ones and the drudgeries.
The Lord has used Scripture memory to transform how I deal with a personal drudgery: sleeplessness. I've always struggled periodically to sleep, and even struggled with "sleep dread," a weird and rare sleep disorder where the lack of sleep leads to the fear of not being able to sleep, which of course leads to more sleeplessness. (It is embarrassing and difficult to explain this to someone who doesn't struggle with it.) Before I started memorizing Scripture, I would just lay in bed, or get up and pray, and basically say, "Lord please please please PLEASE take this away." Then I started memorizing passages in the Psalms and I came to Psalm 63, where David says, "My soul will be satisfied with fat and rich food, and my tongue will praise you with joyful lips, when I remember you upon my bed and mediate on you in the watches of the night." Talk about a different kind of prayer for one's sleeplessness! (Also, for you sleep dread-ers out there, Psalms 121, 127, and Matthew 6:25-34 have been hugely helpful for me).
4. Because 20 minutes a day with God is not enough: A worshipful time with the Lord in the morning is the spiritual version of a healthy and filling breakfast. It hopefully warms your soul, and as Buster would say "feeds your inner man." But just like a physical breakfast's benefits, by 2PM the benefits of a morning quiet time are often gone and forgotten. Many people who are disciplined in their Bible reading simply cannot remember or keep applying what they learned at 6AM, and almost all of us need some kind of spiritual refreshment throughout the day. If we are going to rejoice always, pray without ceasing, and give thanks in all circumstances (1 Thessalonians 5:16-18) we are going to need truth to rejoice about, fuel for continual prayer, and things to be thankful about all the time—things we will only have if the Bible saturates our mind through memorization.
5. It will make you more effective in all kinds of ministry: Most of the passages I have referenced in this blog post have been something I have memorized. I say that only because I've found the only passages I actually use in ministry or remember for daily life are the ones I've memorized!
There is a huge difference between familiarity with a passage ("Oh, you need an encouraging word in your grief? I think there is something in either 1 or 2 Thessalonians somewhere…") and certainty about a passage ("1 Thessalonians 4:13-18 will help you in your grief") when it comes to using Scripture in the various informal circumstances we all minster in (small groups, informal counseling, personal evangelism, parenting our children, etc.) What we read once will influence and be useful us for a short time; what we memorize, for life.
6. Because it is one of the most efficient means of Grace: You might be thinking, "How do I have time for this?" Lucky for you, Scripture memory is extremely time-efficient. Most people, with the right technique, can legitimately memorize one average length verse in 5-7 minutes. Because you've now memorized the verse, it's yours for the rest of the day. In 5-7 minutes you have a whole days worth of truth to rejoice in, obey, and pray through for yourself and others.
7. Because it is the cure for your boredom and addiction to entertainment: Pascal said "All of mankind's problems stem from his inability to sit quietly in a room by himself." There is a reason our minds are restless and a reason we are all, to various degrees, addicted to our phones, entertainment, music, etc. Our minds were made to be occupied by something. Memorizing the Bible occupies your ever-craving mind with the things of God. Want to be captivated by beauty and freed from boredom wherever you are? Memorize Scripture.
8. Because you need to counter the ungodly and trivial influences in your life: Speaking of media: Netflix, when used properly, can be a gift of God. It is sometimes such a blessing to sit and relax your mind through an appropriate TV show. But it is almost impossible to use any kind of media without trivial or ungodly influences or worldviews being presented to you. Almost all TV shows, movies, and advertisements promote some kind of lie or anti-God worldview. And most of us don't use our media with an open Bible, so we need truths in our minds continually to help us counter all the lies that come before us.
For example, my bride and I have been enjoying the much acclaimed series Friday Night Lights. In many ways it's a great show, but most of its characters are engaged in immoral relationships. If I watch this show unthinkingly it will inevitably influence my views on sexuality. Every time I see even the insinuation of someone who commits sexual sin on TV with no consequences, I need to hear again and again: "Flee sexual immorality. Every other sin a person commits is outside the body, but the sexually immoral person sins against his own body."(1 Corinthians 6:18). If I read my Bible faithfully, I get that verse once a year, if I memorize it, I have it every single time I need it.
So get alone with God and ask Him to give you the desire and ability to memorize His Word this year. And get up tomorrow and block out 5-10 minutes to memorize a favorite verse (let it be a part of your devotion time!), repeat it 5-10 times in your head or out loud through the day, and see the way God blesses your heart and mind.