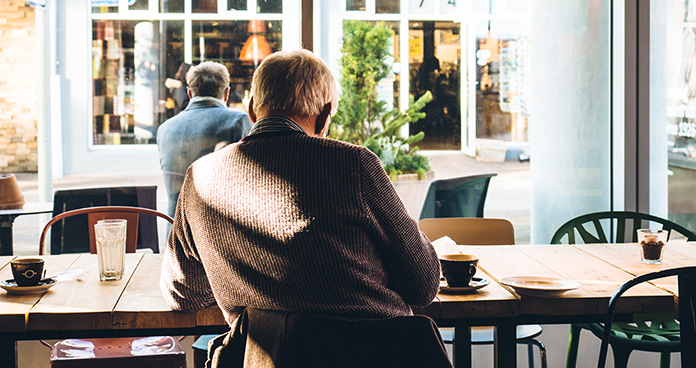 It is said that upon rising every morning, Benjamin Franklin would begin each day by asking himself the question, "What good shall I do this day?" That's not a bad principle to live by (but it is a bit vague). A better (and more biblical question) would be something like "What good shall I do this day for the Lord and His Kingdom?" After reading something like John 15 or Ephesians 2:10 we know that if we are in Christ, we do good works and see the production of the fruit of the Spirit in our lives as a proper response to understanding and believing the Gospel. We can do good for the Lord by how we spend our time and abilities and resources. Sometimes though, I will come to the end of a day where I used my time well, doing good works for the Lord by the resources He has provided for me, and feel like I had just been going through the motions. I was physically present and doing the right things, but my mind was elsewhere. When Jesus explains the Greatest Commandment (Matthew 22:36-40), He tells us that we are to "love the Lord your God with all your heart and with all your soul and with all your mind." By this, Jesus is saying we are to love God wholly and completely, with every aspect and in every area of our lives. But what does it look like to love God with our minds? When attempting to mentally portray our affections do we simply try to think happy thoughts or is there something more to it?
Romans 12:2 says, "Do not be conformed to this world, but be transformed by the renewal of your mind, that by testing you may discern what is the will of God, what is good and acceptable and perfect." From this we can understand that there is a way of the world that is in direct contrast to the ways of the Lord. By not complying to the standards of the world, we are transformed. Not in a weird sci-fi like way, but in a 2 Corinthians 3:18, becoming sanctified and Christ-like way where we "are being transformed into the same image from one degree of glory to another." When we do this, our minds are renewed (or restored) and we can grow in our understanding of who God is and what He would have us to do. But on a day by day basis, what does this translate to? GK Chesterton lived each day with an awareness and wonder (although he would often get lost and have to telegram his wife asking her where we was supposed to be). At the end of what some might call an ordinary day, Chesterton would look back with wonder and say:
Here dies another day
During which I have had eyes, ears, hands
And the great world round me;
And with tomorrow begins another.
Why am I allowed two?
We do not have to look very far to see the wonder and beauty of the God who created the heavens and the earth (Romans 1:20) but we may need to open our eyes and become more aware. Or as C.S. Lewis says, awake. "We may ignore, but we can nowhere evade, the presence of God. The world is crowded with Him. He walks everywhere incognito. And the incognito is not always hard to penetrate. The real labour is to remember, to attend. In fact, to come awake. Still more, to remain awake." (C.S.Lewis, Letters to Malcolm: Chiefly on Prayer, 75). When we can do the hard work of remembering the truth, beauty, and wonder of the grace of God we combat the conformity to the world. When that truth, beauty, and wonder of the steadfast love of God captivates us we live in a renewed manner. We awake from our slumber. But as Lewis said, the challenge now is to remain awake and not become drowsy as we live out our days on earth. As we get out of bed each morning, our thoughts should turn to God and give thanks that we should have another day to experience life. As we eat, our thoughts should turn to God and give thanks for the ability to enjoy the minutia of His creation. As we work, our thoughts should turn to God and give thanks for the opportunity to steward and serve in the various areas He has called us to. As we talk to, laugh with, pray for, and interact with people, our thoughts should turn to the Triune God who models and gives us the ability to experience relationships. And at the end of the day, as we sleep and dream, our thoughts should turn to God and give thanks that we could enjoy a day where we could experience Him and the wonder of His world. It may not come easily at first, but I pray that we can press in and work at thinking consistently and increasingly of the One who is worthy of praise.
8 Finally, brothers, whatever is true, whatever is honorable, whatever is just, whatever is pure, whatever is lovely, whatever is commendable, if there is any excellence, if there is anything worthy of praise, think about these things. Philippians 4:8