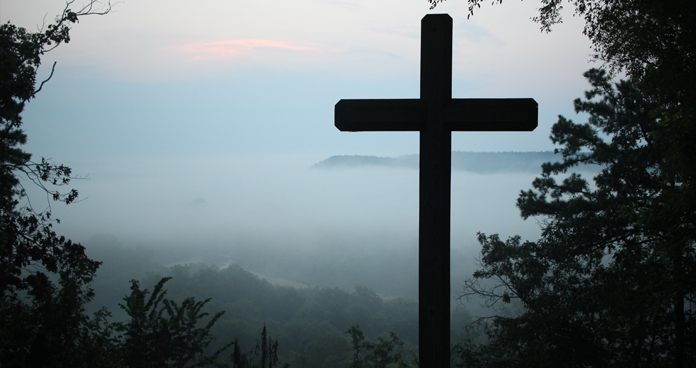 Have you ever felt weird singing love songs to an ancient Jewish carpenter? I have. There have been seasons in my life where I became really uncomfortable with some of the language in our modern worship songs. One of the choruses that used to trip me up was, "I'm running to Your arms / I'm running to Your arms / The riches of Your love will always be enough / Nothing compares to Your embrace." Singing songs like that, I would think, "This just doesn't feel right singing to another man." Of course, the man I am speaking of is Jesus, but still, it bothered me. Now, if you are a woman, I don't expect you to have this same problem, but maybe you still find the emotional tone of some worship songs off-putting. Eventually, I had to ask myself, "Why does showing emotion to Jesus make me uncomfortable?" And then a step further, "What's going on in my heart?" Maybe you feel the same way. Maybe you stand through worship services week after week bothered and uncomfortable, hesitant to sing. If so, here are some thoughts that helped me.
Playing It Safe
Since college, I have really developed a passion for theology. Since the first time I got my hands on a theology book, I was hooked. I had never read or heard things like that before. I didn't realize God had attributes that could be studied, or that people debated the finer points of the process of salvation. It was a whole new world. That was exciting for me. But I made a mistake. I let cold, detached facts about God become a substitute for an actual relationship with God. Now, I don't mean that in terms of salvation, but rather in terms of affection. Imagine if you wanted to grow intimacy with your spouse, you wouldn't just spout off a list of facts and stop there. The facts are good, but if those facts aren't connected to your emotions, you're in trouble.
Here was my issue. I had been playing it safe, keeping my distance, just spouting off facts. That's where I was comfortable. But I never let those facts fuel my emotions. I didn't want to connect my head and my heart. I thought that stimulating my mind with learning something new about God would be just fine.
A Biblical Challenge
Now, looking back, I think the reason I felt uncomfortable letting my knowledge of God fuel my affections for Him was because it made me vulnerable. There's an inherent vulnerability to showing emotion. It's the risk of showing your cards versus the safety of your poker face. But God's not going to hurt you for opening up and showing emotion, so what's the problem? For me, the problem was other people. What if other people saw me showing emotion toward an ancient Jewish man? How would that look? Crazy?
The Bible gives us a story in Luke of a woman, who at a dinner Jesus was attending, went all out showing her love for Jesus. The scripture says, "And standing behind him at his feet, weeping, she began to wet his feet with her tears and wiped them with the hair of her head and kissed his feet and anointed them with the ointment" (Luke 7:38). Immediately, the Pharisees with whom Jesus was eating began to chastise him saying, "If this man were a prophet, he would have known who and what sort of woman this is who is touching him, for she is a sinner" (Luke 7:39). Jesus went on to give them the parable of the two debtors explaining that whoever is forgiven much loves much. Jesus was saying the women's response was the correct response. It was appropriate to bare it all at the feet of Jesus. I don't think it's a stretch to say that the Pharisees were uncomfortable adding overtly emotional acts to their religious routines. Maybe they thought that was beneath them or undignified. Maybe that's where you are today.
But scripture challenges us. It tells us that if we really understand who God is and what he has done for us, the appropriate response is an emotional one.
Connecting Head and Heart
We should always be wary when our heads don't affect our hearts. What I mean by this is that our knowledge of God should manifest itself emotionally in our lives. That is healthy. It is appropriate. We must not let social pressure keep us from a full relationship with our Creator, Savior, and Lord. If you find yourself like I was, uncomfortable with showing affection to Jesus, ask yourself why. What's going on in your heart? To return to music, this is why I think singing is so important for Christians. Worship songs and hymns allow us to express the knowledge we have about God emotionally through beautiful melodies and musical settings. I believe this is why God created music. Just try to listen to a beautiful symphony and not be moved. It would be very hard!
The next time you find yourself in a worship service and having a hard time expressing yourself emotionally, just go for it. Leave your dignity behind for the One who gave himself up for you. Raise your hands; lift your voice. It's fine. It's an appropriate response to the love God has shown you. He wants your mind and your emotions—your head and your heart.