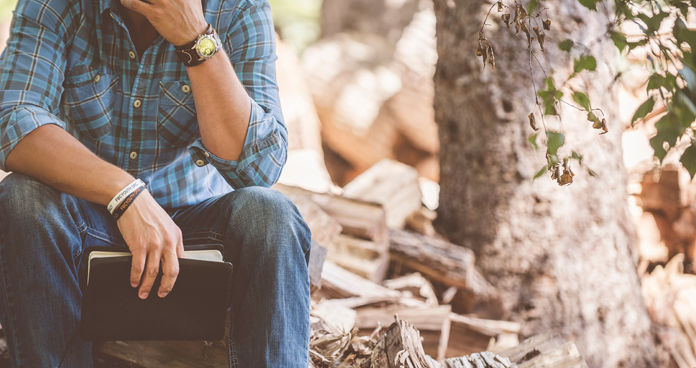 Commitments of a Lifestyle of Evangelism
Two short but incredibly potent phrases in the Bible have been gripping me lately: "Do the work of an evangelist" (2 Timothy 4:6) and "Therefore, knowing the fear of the Lord, we persuade men" (2 Corinthians 5:11). As I've felt the Lord's hand on me through these verses I've made it a personal goal to share the gospel in person with an unbeliever once a week this coming year.
(A couple of words about a goal like this—first, I've found that unless I'm specific and goal-oriented in my personal evangelism, I tend to "lay back and relax" and rarely engage others with the gospel. I make a measurable goal just to help me personally to engage and be intentional, not to be legalistic. Secondly, this is going to greatly stretch me personally, and I would appreciate prayers and people asking me how it's going!)
As I've been thinking about what any hope of accomplishing this goal would take, I've thought through the following necessary commitments of a lifestyle of evangelism:
"By God's grace, I will always be willing and eager to speak for Christ." This is the first and most difficult commitment. I have often found myself unwilling to interrupt my busy life for an awkward fifteen minute conversation or unwilling to risk a friend or family member rejecting me when I try to share Christ. Fear and selfishness are the great enemies of my evangelism. I've learned that the Lord would leave no conversation untouched, that He would have me always ready, willing, and eager to engage someone for Christ, even if no opportunities in a particular interaction arise. This is ultimately a heart issue—is my love for Jesus such that I'll submit every one of my interactions with the people around me to his Lordship? Am I experiencing His grace so much that I long for those around me to experience it as well, and that I'm therefore eager to speak a word for Christ?
"By God's grace, I will expect God to show up when I open my mouth for Jesus." One of the things I have been most convicted of is being surprised when people respond positively to the gospel or are open to discussing it. It's like I just share Christ out of obligation, never actually expecting God to work. God blesses faith-filled expectation. Expect God to show up, to help you, and to save unbelievers when you open your mouth for Jesus. The Holy Spirit is real, He is absolutely sovereign over the hearts of people, and He is able to bring life-changing fruit to your reaching out and speaking the gospel to an unbeliever.
"By God's grace, I will notice, care for, and engage those around me." One of my seminary professors said, "We don't need to pray for opportunities for evangelism, we need to pray that God would open our eyes to all of the opportunities for evangelism around us every day." If you are ever in public places, if you ever go to the same coffee shop or grocery store, if you have any neighbors, if you go on family vacations, you are surrounded by opportunities for evangelism. But you have to open your eyes to the people around you. Get off your iPhone in public places, slow down a little bit, and notice the people around you. Interact with them and make your barista's or grocery clerk's day by noticing them and being kind to them. Those interactions are some of the best beginning places for personal evangelism.
"By God's grace, I will leverage my lifestyle." When Sarah and I first got our dog Riley we thought she was for us. And then all of a sudden—through walking the dog, going to dog parks, taking her out in our apartment complex—we found ourselves around unbelievers who also had dogs all the time, with all sorts of common ground and experiences to share with them. We soon realized that in God's providence we got our dog at least partly so that we could be more in the lives of unbelievers. The same is true of every interest you have: whether it's college football, martial arts, chess, music, fitness, hunting, fishing, etc., God has given you your interests not just for your enjoyment, but also to give you affinities (common ground) with unbelievers.
"By God's grace, I will leverage my life stage." Every new stage of life we enter into—college, young adulthood, married life, parenthood, home ownership, retirement—brings us into new areas of affinity with unbelievers that we can leverage for the gospel. Having a child has been a wonderful experience for me personally, but one of the most unexpected things is how much I now have in common with all of my unbelieving neighbors who have children—how much of our days and joys and struggles are similar. I can seek to build relationships with them around this common ground for the purpose of sharing the gospel.
"By God's grace, I will get inspired." I have been so encouraged recently by watching some videos of Way of the Master evangelists winning people to Christ. (Side note: these guys are straight out of the 90s and aren't hip in any way but they are fantastic and bold evangelists.) Two things stand out to me: their boldness and the fact that people are way more willing to talk about spiritual things than you think. After watching these videos, I leave convicted but also hopeful that the gospel really does have power to save the unbelievers around me. Find ways to inspire yourself in your personal evangelism.
"By God's grace, I will keep an eternal perspective." All of the unbelievers around me are going to Hell. Forever. Hell. Forever. And God's entrusted me (not just the other Christians who are better evangelists) with the gospel—the only message that will ever save these poor people. And the day is coming soon when I am going to stand before the throne of God and answer for how I've used my life for the sake of the gospel. From a worldly perspective attempting to share the gospel is interrupting someone's day with an awkward, unsociable, and potentially offensive conversation, but from an eternal perspective it's a desperate and courageous rescue attempt. It's like tackling somebody out of the way of a bullet; it's a potentially eternally life-saving act. Keep this perspective before you daily, think about it, meditate often on eternity. Imagine you and all the people around you before God's throne on the great Day of Judgment, and live, act, and speak in light of that day.
"By God's grace, I will study up and hone my skills." You don't know how terrible you are at personal evangelism until you try it. Though it is a spiritual act that must be empowered by the Spirit to be effective, many of the practical aspects of evangelism are like any skills (athletic, musical, mental, relational, etc.) in that all of us have some degree of giftedness, but no matter where we are we must work to hone our skills and techniques. Some of us will need to work on the art of conversation, on how to notice things about people, engage them, and encourage them (which are all great life skills anyway)! Some of us will need to really sharpen our understanding of the gospel and how to communicate it. Some of us will need specific training on how to share the gospel. There are tremendous amounts of available resources to teach us how to share the gospel. I would suggest memorizing one, like the Romans Road or the Bridge Diagram, or getting some intentional training from someone who has experience doing evangelism.
"By God's grace, I will do uncool and weird-seeming things for the gospel." As much as I personally think that going door-to-door and having gospel tracts to hand out is uncool and outdated, I'm quickly realizing that that may be the only way I actually do attempt to share the gospel in person with an unbeliever once a week this year. If my commitment to evangelism makes me do uncool things, or even things that other Christians scratch their heads at or criticize, I will do them anyway for the sake of the gospel, trusting God to work.
"By God's grace, I will refuse to be discouraged and quit when I fail." If you attempt a lifestyle of evangelism and become convicted that God wants you to engage the unbelievers around you with the gospel you will inevitably fail and feel guilt about your failure. I can count three or four missed opportunities (the nice way of saying "I sinfully refused to engage someone for Christ out of my selfishness or fear") in the last two weeks. When you fail in sharing the gospel, return to the gospel—remembering that God is compassionate and merciful to you in Christ, that he knows your frame and remembers you are dust, and that he lavishly rewards even the most stumbling efforts of his people to please Him. Trust in God's grace and continue to share it with others.