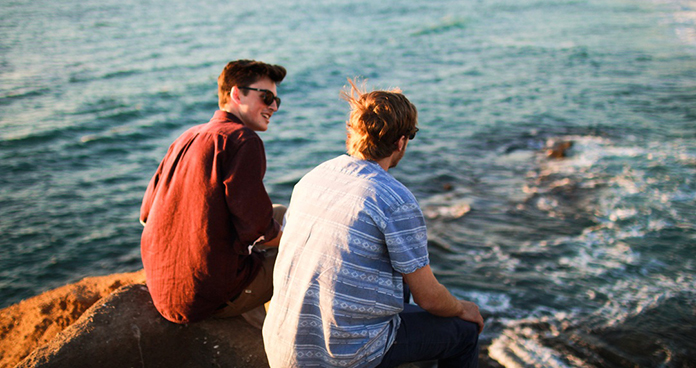 God is Sovereign, So Share the Gospel
If God is Sovereign over everything, including salvation, why should we share the Gospel? Evangelism is hard and scary and not always fruitful. It may be tempting, especially if we have a strong view of God's sovereignty, to shirk our responsibility or think it isn't a big deal if we aren't intentionally seeking out lost people with the Gospel as a way of life.
J.I. Packer's classic (short and readable!) Evangelism and the Sovereignty of God, tackles this issue head on. It is a fantastic resource for those struggling with the difficult theological issue of God's sovereignty versus man's responsibility and also a very convicting book about our responsibility to lovingly, creatively, and prayerfully share the Gospel with the lost. What follows is partly a summary of Packer's points and some of my reflections after reading his fantastic book.
Every Christian is Responsible for Evangelism
Packer lays out in clear and convicting terms that all Christians everywhere are responsible for taking the Gospel to the lost. Our Lord has commanded us to make disciples of all nations (Matt 28:18-20) and to love our neighbor as ourselves (Matt 22:37-39). He points out that neither of these clear commands for every Christian in all ages is possible without evangelism. Disciples are not made without hearing the Gospel, and it is impossible to truly love an unbeliever without sharing the Gospel with him or her.
Does the truth of God's sovereignty diminish the force of these commands? No, because as Packer says, we are to live by the revealed will of God and not the hidden will of God. As Deuteronomy 29:29 says, "the secret things belong to the LORD our God, but the things that are revealed belong to us and to our children forever, that we may do all the words of this law." God's people are called and required to live by the will which he has revealed. God's sovereign purposes for His people or for the nations are his own, and believers are not called to or able to pry into those secret counsels of God. Instead, believers are to live by God's revealed will and to seek to obey Him in all things.
When it comes to the task of personal evangelism, we are to live by the calling and command of God to take the Gospel to the nations. We are not to wonder who the elect are, or blithely say that God will sovereignly save people without us and therefore we are off the hook to evangelize—we are to obey the commandment given to us to seek to make the Gospel known among our neighbors and among the nations.
Packer goes into detail on this responsibility: "…to start with, we all can and should be praying for the salvation of unconverted people, particularly in our family, and among our friends and everyday associate. And then we must learn to see what possibilities of evangelism our everyday situation holds, and to be enterprising in our use of them. It is the nature of love to be enterprising. If you love someone, you are constantly trying to think out what is the best you can do for him…thus, if we love God and our neighbor, we shall evangelize, and we shall be enterprising in our evangelism. We shall not ask with reluctance how much we have to do in this realm…but we shall ask eagerly, and pray earnestly to be shown, just how much it is in our power to do to spread the knowledge of Christ among men; and once we see what the possibilities are, we shall give ourselves wholeheartedly to the task"(78-79). Yes, the entire book is that insightful, clear, and convicting.
One thing that particularly stood out to me was that love for the lost must be "enterprising": it must be creative, thoughtful, and intentional, kind of like the way we attempt to buy gifts for spouses and family members. I was convicted that I'm often on my heels, unprepared to speak for Christ, thinking I'm only responsible for opportunities that fall into my lap, when my Lord would have me thoughtfully, prayerfully, creatively and intentionally seeking out lost people and telling them about Christ.
God's Sovereignty: Good News For Evangelism
Far from hindering these evangelistic efforts, the doctrine of God's sovereignty in grace is the only hope of evangelism because, "it creates the possibility—indeed, the certainty—that evangelism will be fruitful. Apart from it, there is not even a possibility of evangelism being fruitful" (106). This is because all unbelievers are spiritually dead (Eph 2:1-11): "It is, so to speak, instinctive to [unbelievers] to suppress and evade and deny God's truth…and when they hear the Gospel to disbelieve and disobey that too" (107).
But God is sovereign in grace and is able, by his power, to overcome this natural resistance, give new spiritual life to unbelievers, and cause them to respond to the Gospel in repentance and faith. This is the great hope that you and I have when we open our mouths to share the Gospel—that God is able, by our words, to cause this person that I'm speaking with to respond to Christ. We don't have to go into conversations about Christ trusting in our own strength or ingenuity or clever presentation of the Gospel. We can go with the confidence that, "God does what man cannot do" (112).
So, whenever we share the Gospel, we can know that it is possible that this very person we're sharing with is one whom God has chosen from the foundation of the world (Eph 1:4) and that God has chosen us to be the ones to speak the words of life with them and that when we do God will do his unbeatable work of regeneration and irresistibly call that person to Himself.
Meditate for a minute on the kind of confidence that would give you if you really believed it! Think about how indefatigable your evangelism would be if you believed that no matter how many times you're rejected or people don't respond positively when you share, every single time you open your mouth for Jesus it is possible—indeed, perhaps likely with God's providence over the people we meet—that the person you're speaking to is one of Jesus' future people. You can be the means by which God gives eternal life to one of his people. The Lord would have us be courageous about taking the Gospel to Mount Pleasant because, "I have many in this city [who have not yet believed] who are my people" (Acts 18:10).
We are God's Means
God has throughout history used human means to accomplish his sovereign ends. He sent human prophets to declare his Word to his people; he even used pagan nations to accomplish his sovereign judgment over his wayward and sinful people. After reflecting on God's sovereignty in salvation in Romans 9 and how everyone who calls on the name of Jesus will be saved in Romans 10, Paul says, "How then will they call on him in whom they have not believed? And how are they to believe in him of whom they have never heard? And how are they to hear without someone preaching?" (Romans 10:14-15) God is sovereign over salvation, but he has sovereignly ordained to use human means—Christians proclaiming the Gospel to unbelievers to do so.
You are the means by which God accomplishes the salvation of others. Your life, your speaking of the Gospel, your intentional and creative love towards the lost—that is how God will sovereignly save His people. There is no plan B. What a privilege, and what a responsibility! You are like the servant in the parable of the talents, who has been entrusted with treasure while his master is away (Matthew 25:14-30). That treasure is the Gospel, we will be called to account for how we have stewarded it and whether we have invested our Lord's treasure in the lives of others with all of our might.
So, go this week, mindful of God's complete and absolute sovereignty in giving grace to sinners, and share the Gospel with one. Ask God to break your heart for the lost and so transform you by grace that sharing about Jesus is not a burden to you but your greatest delight. Be being enterprising and creative in your love and words to the lost, know that God may use them to save one of His people.