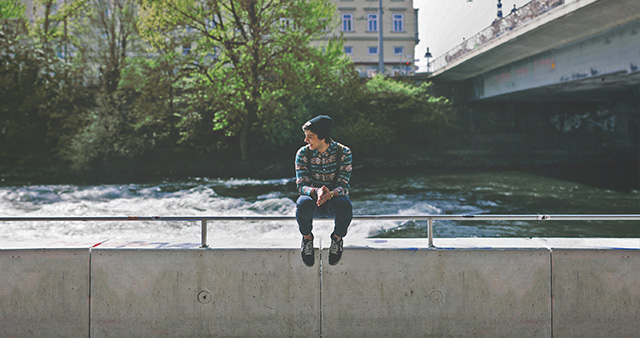 This past October 27th marked the 157th birthday of the Theodore Roosevelt (my favorite POTUS). His life was fantastic and wonderful and full of adventure. But there were also some low points. When he was 25, Teddy's mother and wife died. On the same day. Which happened to be Valentine's Day. His journal entry from that day simply says, "The light has gone out of my life." Speaking of his journal, Teddy tore out every page that mentioned his deceased wife. He also burned letters and destroyed photographs. Shortly afterwards, TR left New York and his daughter (in the care of his sister) and went to the Dakota Territory, working as a rancher (and occasional lawman).
His response to tragedy was to pretend as though it had never occurred. Get rid of evidence, run away, and stay busy. When I experience loss, feel pain, or am hurting I can respond in a very similar fashion. But it shouldn't be so.
This past semester, a few of us here at ECBC have been teaching through the book of 1 Thessalonians. In chapter 4 the Apostle Paul reminds us that when we (believers in Christ) grieve it is not like those who have no hope: "13 But we do not want you to be uninformed, brothers, about those who are asleep, that you may not grieve as others do who have no hope. 14 For since we believe that Jesus died and rose again, even so, through Jesus, God will bring with him those who have fallen asleep." As followers of Christ we hope in the promise of the gospel, the anticipation of Christ's return and the expectation of the joy of heaven.
One of my favorite books of all time is The Lion, the Witch, and the Wardrobe by CS Lewis. It has action, adventure, redemptive themes. It's a total package. We first hear of the lion Aslan (the tale's Christ-like figure) when Mr. Beaver whispers conspiratorially to the Pevensie children that "Aslan is on the move." It was a statement made with anticipation and hope. Aslan was coming to make things right and to fix a broken world. One day for us, Christ will do the same.
Being a Christian does not exempt us from grief and pain or make us impenetrable to hurting and suffering. We are still flesh and bones with emotions. But, we know there is more. We know that the Holy Spirit is with us, sanctifying, teaching, and preparing. We know the hope of heaven awaits: life eternal with Christ the King. There is our hope, and joy, and peace.
Recommended reading:
The Rise of Theodore Roosevelt by Edmund Morris
The Chronicles of Narnia by CS Lewis