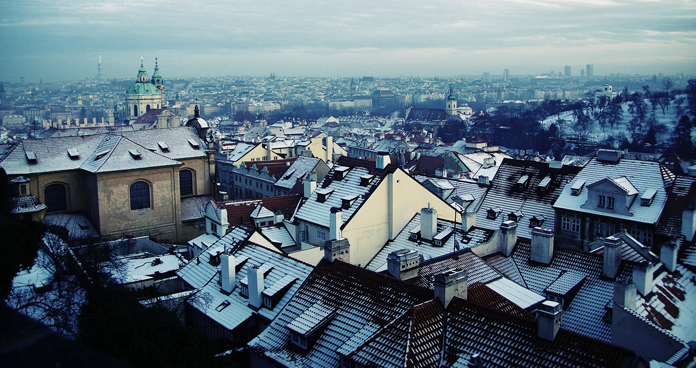 I love to travel and I've learned a very simple trick to heighten my experience when visiting a city for the very first time. Quite simply, talk to somebody who has gone before you. I did that several years ago when I first visited Prague, Czech Republic. It was great! I was given great advice on what to see, what to skip, and where the deals were! I saw better sights. I spent less money, and I didn't waste my time.
Benefiting from somebody who has gone before you is an advantage that we see all throughout life. We can learn priceless volumes from others who have gone before us in parenting, marriage, crisis, or just somebody to walk us through buying a house for the first time. Talking to somebody who has gone before you can provide peace, confidence, and relief where it might not otherwise be found.
To the Children of Israel, "I will go before you"
In the book of Deuteronomy, Moses provides somewhat of a recap of Israel's history and God's plan and promises to them. He begins the book by saying, "The Lord your God who goes before you will himself fight for you, just as he did for you in Egypt before your eyes," (Deuteronomy 1:30). What an amazing relief that must have been for the children of Israel to know that their God is going before them and fighting their enemies for them! And then, as Deuteronomy is wrapping up in 31:8, Moses says, "It is the Lord who goes before you. He will be with you; he will not leave you or forsake you. Do not fear or be dismayed." What a promise! What more peace or relief could be offered than that God himself will continue to go before them! In this situation God is not offering travel advice on a tourist destination. Rather, God is promising that He will go before them like a bulldozer through the dense woods. All they need to do is FOLLOW on the clear, smooth path He is making before them.
To the Babylonian Exiles, "I will go before you"
Later in the Old Testament, in Isaiah 40:3-5, the Lord says through the prophet Isaiah, "A voice cries; 'In the wilderness prepare the way of the Lord; make straight in the desert a highway for our God. Every valley shall be lifted up, and every mountain and hill be made low; the uneven ground shall become level, and the rough places a plain.'" Here, Isaiah is prophesying that God will supernaturally go before and "pave the way" for Israel's return from the 70 year long Babylonian captivity. Israel would be judged for their decades of perverse idolatry and be exiled by the mighty Babylonians after Jerusalem is laid siege and sacked. But only God could bring them home by figuratively dropping the mountains, raising the valleys, and leveling the uneven ground for their return to the Promised Land. Only God could enable the Persians to conquer the Babylonians. Only God could soften the pagan Persian king's heart so that he would release the Israelites, encourage their return, pay their way home, and fund both the rebuilding of Jerusalem and even the temple of the Living God! This is God being God, keeping His promises, and going before His chosen people, preparing their way.
To the First Century Believers, "I will go before you"
There's more! We see this same Isaiah 40 text being quoted in the New Testament as John the Baptist comes on the scene 600+ years later as, "The voice of one crying in the wilderness: 'Prepare the way of the Lord; make his paths straight.'" (Matthew 3:3). Here we see God sending John the Baptist as a forerunner to "go before him [Christ] in the spirit and power of Elijah…to make ready for the Lord a people prepared." (Luke 1:16-17). John the Baptist was used by God to go before our Savior, paving the way for the Messiah to do His saving work for mankind.
To All Christ Followers, "I will go before you"
But, just as John was a forerunner of Jesus to prepare the way, so is Jesus a forerunner for us…going before us to prepare the way! In the past sense, Jesus has gone before us, entering the Holy of Holies to offer Himself as the supreme sacrifice on the altar as a payment for our sins. He has already gone before us and paid the bill before our debt was called in (Hebrews 6:19-20). He now sits as our personal mediator between God and man (1 Timothy 2:5-6). In the future sense, Jesus has already gone before us to prepare a place for those who call Him Lord. John 14 says that He has gone to prepare a place for us and will come again to call us unto Himself! He has gone before us, He is going before us, and He will forever go before us as our advocate before God.
What an immeasurable hope, comfort, peace, and confidence we posses when we rest in the truth that Almighty God can be trusted when he says, "I will go before you." Are you overwhelmed? Are you burdened by life's frustrations at work, in your family, in your finances, or in your own struggles with sin? Be encouraged! Jesus Christ has gone before you! He knows your heart. He knows your pain. He knows your fears. He knows your situation. He knows and He has already gone before you. We are called to follow the bulldozer through the dense woods of life. We may not understand how, but our Savior is able to flatten the mountains and raise the valleys in our life to make our paths straight. "In all your ways acknowledge Him and He will make straight your paths." (Proverbs 3:6)