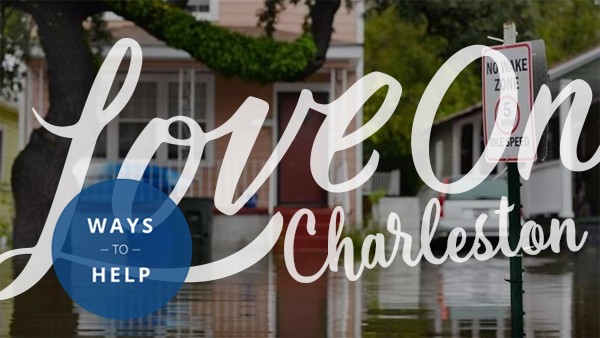 Charleston and the surrounding areas have been hit with an historic flood and many of you are looking for ways to serve and bless your neighbors.
Join us at ECBC as we become the hands and feet of Jesus to our community. Here are a few ways you can help fulfill the Great Commission in this time of need.
1. DONATE!
To assist our neighbors in need, East Cooper Baptist Church is collecting STARTING TODAY until FRIDAY, OCTOBER 16 at NOON the following items to distribute to local areas in need. We will collect these items in the trailer located in the parking lot at the first entrance.
Blankets, Bedding & Towels
Rice
Tuna
Grits, Cereal, and Oatmeal
Peanut Butter
Canned Fruits & Vegetables
Diapers & Personal Hygiene Items
N95 masks
box cutters
electrical tape
head lamps
cleaning kit/bucket
__________________________
Columbia is in need of baby items! Cribs and crib mattresses specifically, but strollers and other times are needed too! You can drop these donations off inside our trailer until noon Friday. We will deliver to Columbia on Friday, October 16.
__________________________
Teams from other states are here working on flood relief in the North Charleston and West Ashley areas. They could use our help getting their work clothes cleaned up. Would you be willing to help by doing a few loads of laundry? Or maybe you're coming to and from that area and could help us pick up and take the clean laundry back. This is a great way we can serve those ministering to people who are in need after the flood.
2. PRAY!
Our city and state have been through a lot these past few months. Pray for our first responders, medical professionals and military who serve and protect us.

Pray for members of our community who have lost their homes.

Pray for God to show you ways that you can be of help to those in need. Offer them the Hope that we have in the Gospel. Christ is our one true Hope and let's make Him known as we help meet physical needs for people.
3. SERVE!
Samaritans Purse is in need of disaster relief volunteers at First Baptist Church, Jedburg in Summerville! Call 843-209-0396 for more info. Can you help? Sign up here: South Carolina Flood Response
Are you willing to help? Sign up for our email updates and we'll send out emails as we know of needs!
We have set aside November 14, 2015 from 8am-2pm to serve the city, as needs arise we will do our best to meet them and find other dates sooner than we can help serve our community.