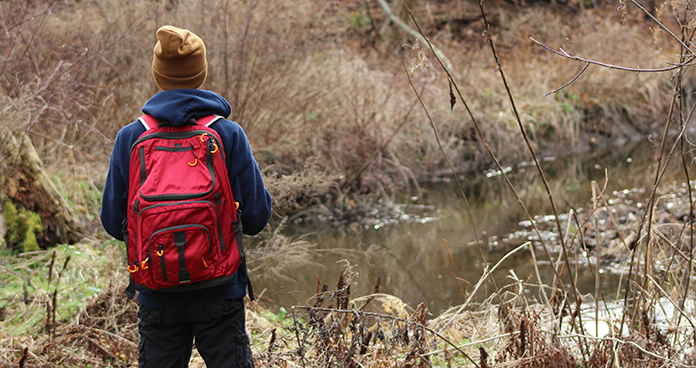 Praying for Your Adult (or nearly adult) Children
When my children were little, everyone told me that while parenting small children was physically demanding, those were actually the easy years. I did not believe it.
I think the difficulty in parenting older children is that they are away from us so much more, and making their own decisions. Sometimes you watch them get burned. Of course, control is an illusion. God is completely sovereign. We are given a time to take them by the hand but when that time ends our vital role in prayer continues.
I have no doubt that as loving parents you have been praying for your children, no matter how they came into your family, probably since they were nothing more than thoughts in the heart of God. However, do you find yourself praying, but at the same time trying to manipulate circumstances in your adult child's life? Are you losing sleep? Has concern crossed the line into worry? Is this affecting your relationship with that adult child? If you answered yes to any of these questions, then you must go before the King.
Fast and Pray
In Mark 9, Jesus told the disciples at one point when they were unable to cast out a demon that "this one would only come out by prayer [and fasting]." Mark 9:28-29b* I think that there is a component of spiritual warfare in raising children. I don't believe that the enemy appreciates that we train young people to be warriors for the Kingdom of Light. We are doing battle. Ephesians 6:12 If you are in a particularly difficult season with your adult child, I would suggest that you fast and pray. There is no formula for fasting. You can choose one or more days to fast, or one or more meals to miss and pray instead. When you feel hungry, it should be a prompt to remember that you need God more than food in that moment and to plead for His power in your child's life. I never know how God will use a time of prayer and fasting, but I do tend to approach it with greater expectation, knowing that He always brings something good, be it fresh hope or a major breakthrough.
Stay in the Word
The Word is living and active, powerful, and able to change people. Hebrews 4:12 As you read Scripture, insert your child's name in prayer. Pray the Promises of God for them. Things are happening in the heavenly realms that we cannot see. 2 Kings 6:16 Do you really believe that He is faithful, trustworthy, loving, sovereign, and able to save the most unlikely sinner? Do you believe He has a plan that is for our good and His glory? Remaining in the Word will keep us and our prayers grounded in truth.
Keep Your Perspective
Experiencing some pain and difficulty is how we all learn, grow, and develop character and perseverance leading to maturity. Why are we all so afraid? I am not suggesting that you do anything in particular in regards to parenting, only that we examine why we do what we do. Don't let fear be the driver. Use wisdom and common sense, but then let your faith be greater than your fear. When things happen, try to see how God might be using the situation for good in your child's life. We can pray that everything goes smoothly and that God keeps them "safe," but don't stop there.
What is the highest and best thing you can think of to pray? How did Paul pray for the church? Ephesians 1:16-19, Philippians 1:3-11, Colossians 1:9-14 How did Jesus pray for us? John 17 Pray that your child grows closer in his/her walk with the Lord, that his/her character will reflect the character of Jesus, that he/she will be strong and courageous in the face of challenges and that these will cause him/her to cling tightly to Christ and to know Him better. Pray that your child will be filled with all the wisdom and knowledge of Christ. Pray that the beauty of Christ and the profound truths of the gospel will become part of your child's thinking and influence every decision and action. Pray that their hearts will be for Him alone. Pray that he/she will be salt and light in the kingdom and that their joy in the Lord will attract many to Him. These are the kinds of prayers with eternal impact. If you were to go before the Lord and be guaranteed what you seek, what would you ask for your child? What promises in the Word would you claim? Write down those verses you are praying. You might even share them with your child as an encouragement.
Trusting what we cannot yet see
No matter what things look like, we must know that while there is breath, God is not finished with us. Suppose you realize that your beloved child is not walking with Him or perhaps has even rejected Him? This is alarming and painful as a parent to witness. You might even want to blame yourself. We are not the Holy Spirit. It is our job to be faithful, to be salt and light to our children, to diligently teach, model, and intercede for them; then the outcome depends on Him. Salvation belongs to our God. Revelation 7:10, 19:1 Our parental influence matters, but does not determine outcome.
His ways are not our ways but He is working all things for good for those who love Him. Romans 8:28 Ask that He will give you Kingdom eyes to see things as He sees them, not as the world sees. Do not grow weary of doing good, for at the proper time we will reap a harvest, if we do not give up. Galatians 6:9
*The study notes in the ESV and 1984 NIV say that some manuscripts add "and fasting" here