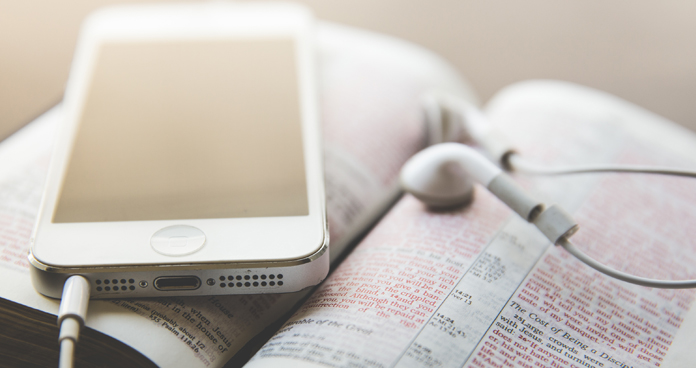 Smartphone Scripture Memory
About a year ago our Young Adults Pastor, Leland Brown, wrote a great article titled "8 Reasons to Start Memorizing Scripture Today." This past Sunday, Buster challenged our church to memorize several verses between now and the end of the year. Additionally, if you've read the Bible for any length of time you've probably encountered verses that allude to the value of memorizing God's Word. Joshua 1:8 tells us to meditate on Scripture day and night. The Psalms begin by pointing out that the man who delights and meditates on the law of the Lord is blessed. In Psalm 119 (which is a sort of homage to God's Word), the psalmist explains "I have stored up your word in my heart, that I might not sin against you" (v.11). In 2 Timothy 3:16 we're told that Scripture is "profitable for teaching, for reproof, for correction, and for training in righteousness."
Hopefully by this point you don't need any convincing that memorizing Scripture is a worthwhile endeavor. Hopefully by now you get that being able to recall verses from memory would be helpful to your walk with the Lord. But maybe you're still wondering how to best go about it. Tony Reinke said that our smartphones are "windows into the worthless and the worthy, the artificial and the authentic." A way to leverage your smartphone's technology in a way that is worthy and authentic is to use it to memorize Scripture. Here are a few good options…


Fighter Verse
Fighter Verse originated out of Bethlehem Baptist in Minneapolis, MN during a church-wide Scripture memory emphasis. The app provides a collection of Fighter Verses that are broken into five sets. Each set has 52 verses so (in theory) you can follow along and memorize a verse a week. There is also a collection of Foundational Verses for Kids that are accompanied by some helpful audio and visuals. Some other great features include being able review verses by playing some fill in the blank and matching type quizzes as well as being able to search and save verses by topic and reference. Fighter Verse is available for both Android and Apple devices for $2.99.


Topical Memory System

A ministry that has been historically known for their emphasis on Scripture memory is the Navigators. To help believers memorize key verses, they developed the Topical Memory System (TMS). For years the TMS has been available in a physical format (containing dozens of verses on small cards that could be carried around in a provided vinyl wallet) but has recently become available in an app format. The TMS app arranges verses by topics such as "Live the New Life" and "Growing in Christlikness" and provides different activities to help you memorize. Although you can't add additional verses, the TMS provides a treasure trove of verses worth memorizing. The NavsTMS app is available for $4.99 in the Apple App Store.



Flashcards
Although this app isn't primarily intended for Scripture memory, I like it for a couple of reasons. Flashcards is completely customizable so you can type in whichever verses you like in whatever format you like. One method that has been very helpful for me is to have the verse I'm trying to memorize on one side with the initials of each word on the other. So for example, if I was trying to memorize Ephesians 2:8, the front side of my flashcard would say "For by grace you have been saved through faith. And this is not your own doing; it is the gift of God" and the back would say "F B G Y H B S T F A T I N Y O D I I T G O G." Flashcards definitely requires more work to set up but I enjoy being able to personalize what I'm memorizing. The app also allows you to send and share your sets of cards with friends.The app is available for free on both Apple and Android devices. You can also click here to download the verses Buster has challenged us to memorize between now and December.

Ultimately, it doesn't matter what app you download. It doesn't matter what method you choose. What does matter is figuring out what works for you. And when you do figure out how you best memorize Scripture, remember one more thing: "The goal is not to see how many verses we can memorize, the goal is Godliness. The goal is to memorize the Word of God so that it can transform our minds and our lives."1
1 Donald Whitney, Spiritual Disciplines for the Christian Life (p. 47)