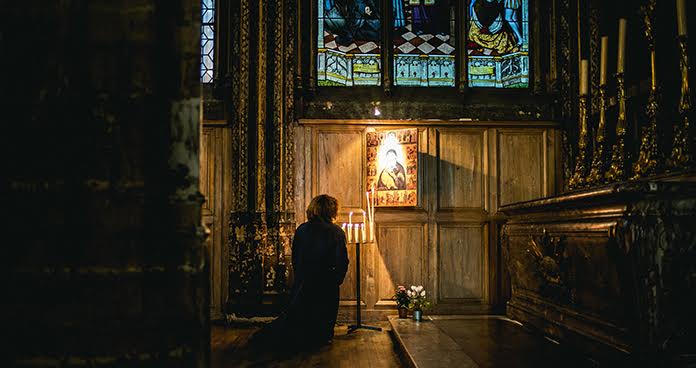 I recently heard about a really beautiful place where mediums and "Spirit-ists" gather for the summer season to hold "message meetings" and private readings in which they share what they say are messages from loved ones who have passed away. I know people who are deeply grieving very difficult losses of people they love and the temptation to want to hear from them again is strong. These particular mediums share hopeful messages of love and caring from those beyond the grave to encourage those who remain in this life and to let them know that their loved ones still care for them and are with them. Do you see anything wrong with this?
Well, I see many things that are of great concern. First, the website for this group plainly says that they consider themselves to be Christians and they consider Jesus to be their brother and a great teacher. However, they do not accept that Jesus is God or that He died for our sins, because they believe in "personal responsibility." Obviously, the first red flag here is that they are not believers. Jesus Christ was much more than a great teacher. He is God who came to earth as a human man to die for us sinners, because no amount of personal responsibility can save us from our sins or make us righteous before a perfect God.
Ok-- that was a pretty obvious given. They are not believers. But again, if they are making people feel better and giving hope and comfort, what is wrong with that? Certainly God uses even those without faith to bless others. BUT....
If you find yourself in a desperate situation, greater than your own capacity to fix, feeling without hope, suffering greater pain than you have ever felt in your life, there is something very powerful that you can do and you can expect great results from it. PRAY.
All good things come from God. (James 1:17) Would you want a gift if it was not from God? If God had nothing to do with it? Would it be good? Can something that is not from God be good? If it is not from God, who could it be from??
Satan masquerades as an angel of light. (2Cor 11:14) He is a liar and the father of lies. (John 8:44) He wants to devour you. (2 Peter 5:8) Do you think that Satan has anything good for you? If a person who calls themselves a medium, truly has a message that we think is for us, what is the real source of that message??
1 John 4:1-6 says this: "Dear friends, do not believe every spirit but test the spirits to see whether they are from God, because many false prophets have gone out into the world. This is how you can recognize the Spirit of God: Every spirit that acknowledges that Jesus Christ has come in the flesh is from God, but every spirit that does not acknowledge Jesus is not from God. This is the spirit of the antichrist, which you have heard is coming and even now is already in the world. You, dear children, are from God and have overcome them, because the one who is in you is greater than the one who is the world. They are from the world and therefore speak from the viewpoint of the world, and the world listens to them. We are from God, and whoever knows God listens to us; but whoever is not from God does not listen to us. This is how we recognize the Spirit of truth and the spirit of falsehood."
God tells us to be strong and take heart and wait on the Lord. He tells us that He comforts us, that He saves every tear and hears our cries. He understands our suffering because He Himself suffered. He suffered the pain of separation from the Father, which surpasses anything we could go through on earth. So, if we are not going to Him for comfort and understanding in our deepest hurts, then who are we listening to? Who are we aligning ourselves with? Who has our ear?
Or maybe we are not going to this extreme to seek comfort. Maybe our comfort is something that is more "acceptable" like shopping, or food, or calling a friend. These things are not inherently wrong, but if they are substitutes for going to the Lord, they are counterfeits and they are idols, and they serve the same purpose for the enemy-- they keep us from being on our knees in trust and dependence on God.
I think that there is a lot of hurt out there and a lot of desperation. I do not want to make light of this. Suffering is very real for all of us. No one is beyond it on this side of the cross. But there is only one place to find hope. Only one person who can help us in our deepest needs, deepest pains, most desperate situations- and that is the person Jesus Christ. There is no other. There is no substitute. He is the Most High-- God Himself-- Who could possibly be greater?? And He loves us with an everlasting love. He wants only good for us, and He was willing to die for us to be sure nothing could separate us from His love. (Romans 8) Not only does He loves us, but He understands the pain. -Hebrews 4:15-16 says, "For we do not have a high priest who is unable to sympathize with our weaknesses, but we have one who has been tempted in every way, just as we are- yet was without sin. Let us then approach the Throne of Grace with confidence, so that we may receive mercy and find grace to help us in our time of need."
If you find yourself in a desperate situation, greater than your own capacity to fix, feeling without hope, suffering greater pain than you have ever felt in your life, there is something very powerful that you can do and you can expect great results from it. PRAY. You can take your needs straight to the Throne of God and you can expect that He will not only hear you out, but He will bring help to meet you wherever you are. (2 Cor 1:3-7) You can be sure of it. He is still working miracles that reveal Himself to us on a personal level. You may not realize it right away, but this place of desperation is the safest and best place you can be because it turns your heart to God and He tells us that He is close to the broken hearted. (Psalm 34:18) (Psalm 147:3) You are in a place of truth like never before, because you see your true position and His true position. So, when you pray, you can have full confidence that He is with you and that He is working and that you have a Deliverer in ways that are even better than you can imagine. You are ready to hear from God and He longs to be known and glorified in us! And you can know that His glory is always for our good!!