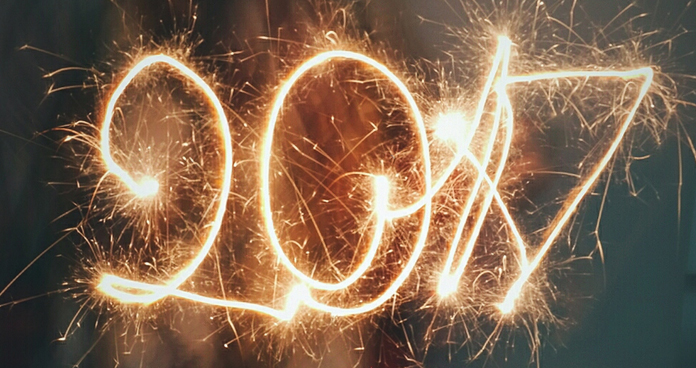 When I was about 12, I got on a treadmill and held down the button that increases the speed until something similar to this happened. Every year, the combination and proximity of Thanksgiving, Christmas, and New Year's Eve elicits, in me, a comparable feeling, albeit without going through a sheet of drywall. It seems as though when one year winds down, the tempo of our daily living actually speeds up in anticipation for the year to come. People begin thinking up goals to achieve and resolutions to implement. Which is great. I'm all for goals. But as 2017 comes to a close, I'd like to give equal attention to the year we are closing out in order to reflect on some of the things that I (and some of the other ECBC pastors) most enjoyed. These are resources that have encouraged us, stirred our emotions, and made us think. Here is a non-exhaustive "Best of 2017" list.
Best Book
Without a doubt, the book that I most enjoyed, learned the most from, and found the most convicting was 12 Ways Your Phone is Changing You by Tony Reinke. If you haven't read this book, you need to. In it, Reinke addresses the way the technology of our phones can be a "window into the worthless and the worthy, the authentic and the artificial." The book is extremely well researched, highly applicable, and because close to 80% of Americans own a smartphone, a resource we should all give some time to.
Honorable Mentions: The Vanishing American Adult (Ben Sasse), Forgotten God (Francis Chan), God is the Gospel (John Piper)
Best Article
"How John Piper's Seashells Swept Over a Generation" by Sarah Eekhoff Zylstra provides some first-hand accounts of the time John Piper spoke to 40,000 college students at the Fourth Passion Conference in May of 2000. "The sermon was formative for our generation," said 35-year-old Matt Capps, now a senior pastor in North Carolina. "Only time will tell if it marks Christian history the way sermons like [Jonathan Edwards's] 'Sinners in the Hands of an Angry God' did. But in our generation, at least in my circles, if you mention the seashells illustration, everybody knows what you're talking about."
Honorable Mentions: "Finding the Masculine Genius" (Anthony Esolen), "Is Football Too Violent for Christians?" (Tony Reinke)
Best Talk
Speaking at the 2017 LDR (Leadership Development Resource) Conference, Reverend Duke Kwon (from Grace Meridian Hill in DC) discusses what "Speaking the Truth in Love" could and should look like within the body of Christ. Nothing else has contributed to my understanding of how to heal division and promote racial unity quite like this talk. I've listened to it about half a dozen times now and encourage you to give it a shot.
Honorable Mentions: "Hospitality is Spiritual Warfare" (Rosaria Butterfield), "What Does Washington Have to do With Jerusalem?" (Ben Sasse), "Parenting is Gospel Ministry" (Paul David Tripp)
Best Sermon
Losing Leisure for Loving Labor by Matt Reagan. This was a favorite sermon of mine because I like to be comfortable. I look forward to leisure. In this address, Matt (graciously) challenges the motivations for work and rest and helps to provide a gospel perspective for the labor/leisure tension. Listening to this makes me want to be more considerate of how I spend my time and how I think about and care for other people.
Honorable Mentions: The Education of a Prophet: Jonah (John Piper), The Vindication of God (Dr. Martin Lloyd-Jones), Boasting in Nothing Except the Cross (Tim Keller)
Best Song
"Wait For Me" by Cas Haley. This song actually came out in 2013 but Cas Haley only recently came across my radar and I have thoroughly enjoyed all of his stuff. This song is sweet and soulful and is the most genuine thing I've listened to in awhile. Cas falls somewhere between Ray Lamontagne and Bob Marley when it comes to musical style and plays the kind of music you would want to be listening to on a vacation to the beach.
Honorable Mentions: "Build My Life" by House Fires, "Baby I Don't Know Oh Oh" by Vulfpeck
Best Movie
Dunkirk. Few people possess the ability to tell a story quite like Christopher Nolan. In his most recent film, Nolan shows the evacuation of Dunkirk from several different perspectives (land, sea, air) through various timelines (a week, a day, an hour). The cinematography is beautiful and Nolan does an excellent job at communicating what kind of courage, endurance, and sacrifice was necessary in May of 1940.
Honorable Mentions: Star Wars: Episode VIII - The Last Jedi, Coco, Get Out
I'd encourage you to make your own list. Whether you post it to Facebook or write it in your journal, reflect on some the things that the Lord has displayed to you this year. Reflect on some the ways that you have grown in the grace and knowledge of Christ (2 Peter 3:18). Consider some of the ways that you have been transformed into the same Image from one degree of glory to another (2 Corinthians 3:18). Think about how your mind has been renewed (Romans 12:1-2). And after all of that, think about how you would like for next year to go. In what ways would you like to be grown and stretched and pushed as you walk with the Lord?