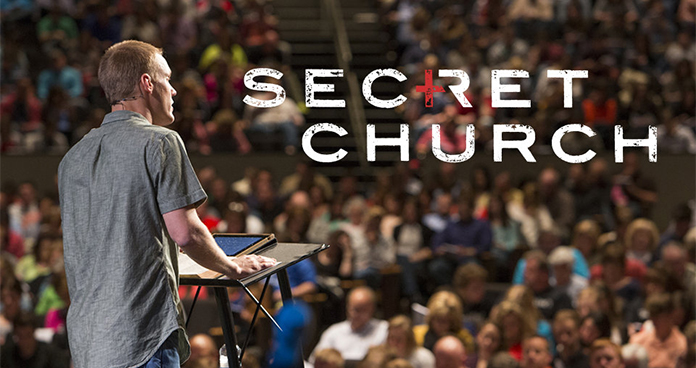 The History of Secret Church
On Friday evening April 29th at 6:30pm East Cooper Baptist Church will be hosting the Secret Church simulcast. The story of how this gathering came about in one local church and grew into a national movement of believers is inspiring to me. It reveals a hunger among God's people for his word and a desire on the part of those people to see the persecuted church grow in numbers and maturity.
Here is an account of the history of the event from the study guide you will receive at the simulcast…
Secret Church began in 2006 at The Church at Brook Hills in Birmingham, Alabama, based on time David Platt spent with brothers and sisters in underground Asian house churches. In those contexts, Christ-followers gather together at the risk of their lives for 8-12 hours at a time—simply to pray, worship, and study God's Word. It's simple, raw, and dangerous . . . all at the same time.
The leadership at Brook Hills began asking if they could do the same thing and decided to try it. They chose a Friday evening where people could gather from 6:00pm until midnight for two main purposes: to worship through intensive study of the Word and to identify with our persecuted brothers and sisters by praying intentionally for them. Simply six hours of teaching and prayer.
Approximately 1,000 people participated in the first gathering to study through Secret Church: Survey of the Old Testament and to pray for peoples across Africa. Secret Church continued to grow, and before long, people were driving across the United States to be part of these special gatherings and asking if Secret Church could come to their church.
In 2011, Radical facilitated the first Secret Church simulcast, making it available to churches and small groups across the United States and around the world.
The simulcast will be led by David Platt the director of the International Mission Board of the SBC. The topic of study for the evening will be "A Global Gospel in a World of Religions." The evening will include four teaching segments taught by David Platt and a dedicated time of prayer for our persecuted brothers and sisters around the world.
You no longer have to drive across the country to be a part of Secret Church. Simply register and drive to East Cooper Baptist Church on April 29, 2016.