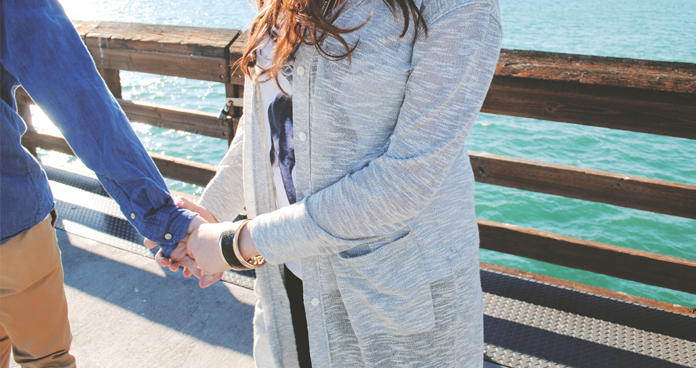 Three Ways to Help Your Husband Be the Spiritual Leader of Your Home
My father-in-law always wore the pants in his family, but my husband said that was because his mother washed and ironed those pants and then said, "Here, Robert, put on your pants." A man cannot lead unless his wife is willing to let him. As a result of the Fall, men can have the tendency to be passive and women can have the tendency to dominate. Genesis 3:16b I think that our culture really exacerbates this with so much confusion over gender roles. However, being the suitable helper to our husbands is a high and holy calling. It is one that requires much prayer and wisdom. When we as wives live this way, we are actually helping to reverse the curse and live Kingdom centered lives according to God's created order. Living this way brings joy and peace to our homes and our hearts because God is glorified. (Genesis 2:18-24) That is why it feels so right; because He made it to be so.
Two Prerequisites:
This is not a blog about how to submit to your husband's leadership in general but more specifically, how to help your husband to be the spiritual leader of your home. First, you must pray. Ask the Lord to equip and motivate your husband to be the spiritual leader of your home and ask God to help you to patiently encourage him and follow graciously. Remember, he does not need to have a seminary degree or to read theology books every day in order to lead well. Only one Book is needed! (Psalm 119:105) Secondly, is your husband a believer? Is his heart inclined toward the Lord? If you know he loves the Lord and has a personal relationship with Him, then you have a very primary prerequisite for spiritual headship!
Here are three ways to be that suitable helper in this area:
Encourage Your Man
Does your family pray before meals? Does your husband ask the blessing? If not, maybe you could gently ask him to do that? Does your husband pray with you? Ask him to pray for you regarding specific things going on in your life. Don't worry if he does not automatically pray aloud for you in that moment. Also, ask him in the morning how you can be praying for him during the day. Be sure to ask him later for an update on that request. When there is a decision to be made, ask him if you can pray together and ask for the Lord to give wisdom to your husband as he leads you in the decision-making process. Be sure to give thanks in your prayer for your husband and for his leadership. Affirm him. Ask for his advice and take it! Gently encourage your husband to go to Man2Man, Bible study, Wild Game Banquet, and accountability groups with other men. Invite other godly couples to do things with you socially. Ask your husband if he would be willing to join a community group. Christian fellowship is very encouraging. (Hebrews 10:24-25)
Seek the Lord
Seek the Lord on your own! (Philippians 1:9-11) Passion for the Lord is contagious! Share with your husband what you are learning in Bible study or reading on your own. Talk about the sermon and Sunday school lesson on the way home from church and at Sunday lunch. Ask him what he thinks. Be patient as seeds are planted and watered and wait for the Lord to bring the harvest.
Nurture Your Relationship
Look for ways to build your husband up and to bless him. Be sure there is nothing between you. When a person does not feel appreciated they can withdraw in very subtle ways. Men can have tender hearts, ladies. If you are the mother of sons, you know this all too well. As the woman in the home, you have much influence. Set the tone. Affirm your husband as the leader to your children. You cannot demand that your husband lead but you can gently encourage him by your actions. If he does not take the lead, be sure you do not step in his place. You have to step back so that he can step forward. Pray for the Lord to lead Him. Even if your husband is not a believer, these principles can still yield much fruit in your marriage. With prayer, encouragement, and time, see what God will do. (1 Peter 3:1-2, Ephesians 5:22)
So, ladies, let's give our husbands their pants- freshly washed and ironed with our prayers- not wadded up and wrinkled with ungracious and unloving attitudes. Seek the Lord and ask Him to show you the best ways to be that suitable helper. As the saying goes, "Behind every good man is a good woman"….handing him his pants.