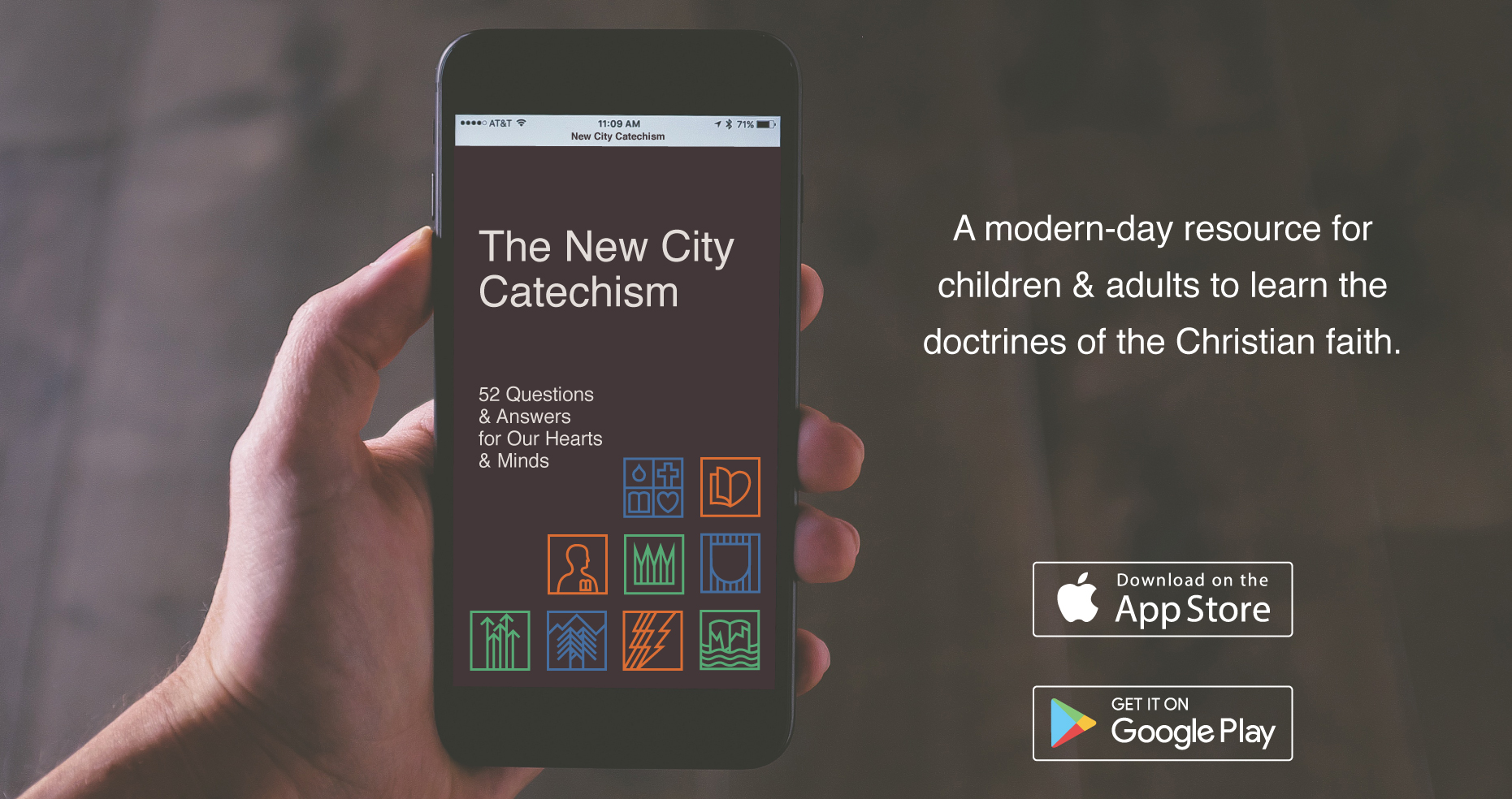 What is the New City Catechism?
In 2012, The Gospel Coalition and Redeemer Presbyterian Church partnered together to release a series of 52 questions and answers and called it the New City Catechism. Historically, catechisms have played a central role in church life and been used to maintain gospel integrity, succinctly define biblical truths, and help the believer be "transformed by the renewal of their mind" (Romans 12:1). If you've attended ECBC for any length of time, chances are you've probably heard Buster quote or make reference to the Heidelberg Catechism (1563) or the Westminster Catechism (1649). These have been invaluable resources for Christians seeking to understanding and promote the truth of the gospel for centuries and the aim of the New City Catechism was to honor that tradition through an updated and relevant format. Tim Keller explains that "...we decided to adapt Calvin's Geneva Catechism, the Westminster Shorter and Larger Catechisms, and especially the Heidelberg Catechism, to produce New City Catechism. While giving exposure to some of the riches and insights across the spectrum of these great Reformation-era catechisms, New City Catechism also looks at some of the questions people are asking today."
What's a catechism?
The word catechism comes from the Greek word katechein which means "to teach orally or instruct by word of mouth." In the early church, Christian converts wanting to be baptized and join a local church body went through a period of teaching and training (ie. discipleship) before being admitted. They were known as catechumens. The New City Catechism offers something similar for us today. Each question is designed to help us gain traction on a theological truth and each answer is worded with precision and care, helping us to accurately articulate an answer to questions like "What is prayer?" Accompanying each question is a verse or passage of Scripture that correlates with the topic. Additionally, the New City Catechism has commentary that goes along with each question. One old, one new. So when you get to question 4 about the Trinity, you get to read some thoughts from guys like Richard Baxter (1615-1691) and Kevin DeYoung (born 1977).
What can the New City Catechism do for you?
One of my favorite things about the New City Catechism is how approachable it is. Crossway has recently published a devotional book you could go through on either a daily or weekly basis, during an individual time of prayer and study or as part of a group discussion. Additionally, the New City Catechism can be obtained through a mobile app (available on smartphones, tablets, etc.) that is designed well and easy to use. The app has everything the devotional book does with one added special feature. By enabling "Children's Mode" you can hear sing-along versions of all 52 questions and answers that are a great means to helping kids get excited about memorizing the catechism.
Right now, the staff of East Cooper Baptist Church is reading and reflecting on a different question of the New City Catechism each week. It only takes a few minutes each week, but it gives us a regular glimpse of the gospel and helps to stir our affections for Christ. Regardless of your age, stage of life, or how long you've been a Christian, the New City Catechism will prove a fruitful and invaluable resource to you as you seek to grow in your understanding of the Lord and what He has done for us through the cross.