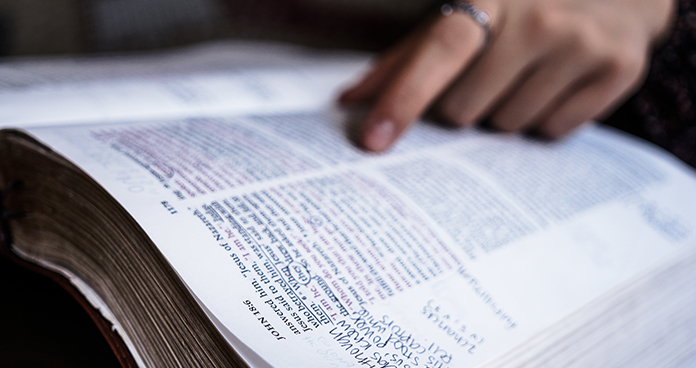 East Cooper Baptist is starting an exciting and wonderful new initiative called EquipU—a new approach to Sunday Morning Bible Class centered around intentional equipping in three basic tracks—one centered on understanding individual books and genres of the Bible, one centered on biblical and systematic theology, and one on life principles. It has potential to be a game-changing, generation-impacting initiative in our church's life.

But it will require every member of East Cooper Baptist to buy into giving our Sundays to the Lord by being at church for both service hours, from 9am-12pm, every Sunday. And for many of us this might seem like a big ask: life is crazy, Sundays are precious rest days/family time, and three hours can seriously jack up some schedules if you have little children. However, we give up rest time and jack up our families' schedules all the time for things that we think are worth it.

What I want to do in this blog post is to attempt to convince you (if you're someone who is currently only involved in one service hour) that you need equip•u, and that equip•u, and the knowledge and growth you'll gain from it, is worth you giving your Sundays to the Lord. I'm going to provide three simple examples of how equip•u and the knowledge you'll gain from it, can be game-changing in many aspects of your walk with the Lord.


Why You Need the Literary Styles Track
One of the equip•u tracks focuses on interpreting and studying individual books of the Bible according to their literary style. Literary style is simply the type of communication something is and the particular communication styles in that come with it. For example, individual romantic comedies, though all unique in their own way, contain common features and communicate in similar ways—ways very different than physiological thrillers or war movies. In other words, it would be foolish to come to How to Lose a Guy in Ten Days with the same expectations as you would for Band of Brothers. We generally understand this instinctively with movies and media.
But often times we approach individual books of the Bible ignoring the genre in which they were written. Consider this example: You're reading paragraphs of Mark each day and your devotionals lead you to Mark 14:66-72—Peter's denial of Jesus. The rock of the church is faced with a servant girl, and what does he do? Denies his Lord. What's Mark getting at here, and what does it mean for us? Should we walk away into our day with "I shouldn't deny Jesus today like Peter did (I had better do some evangelism!)" or "Even the best Christians fail (so no worries if I fail today!)," as many have interpreted and applied this passage?
Here's where understanding the biblical genres is a game-changer. The Gospel of Mark is a narrative (a story) and as a narrative it employs all sorts of intentional narrative devices to communicate its meaning like plot and character development (and many more!). This particular passage is a wonderful example of one of these literary devices—a foil—in which one character contrasts another character (usually the main one) in order to highlight particular qualities of the other character. If we go back to verse 53, we see that Mark has placed Peter's denial of Jesus immediately after Jesus' faithful testimony before the Council. Jesus is before men who (seemingly) have the power of life or death over him and He is utterly faithful, refusing to defend Himself and get out of his fate. Peter is before a servant girl and he denies his Lord and even invokes a curse on himself—all out of the fear of death.
So what's Mark getting at here? Arranging his account so that Peter is a foil to Jesus. He's highlighting Jesus' faithfulness through Peter's failure. The whole point of this story is that Jesus alone is the Faithful One of God's people, so set on His Father's will, so fearless, that he refused even to rightfully defend himself, that he was faithful unto death—and that he did so for his failed and fearful people. Suddenly, the gospel of grace is all over Peter's denial of Jesus!
All of this is shared to say the following: if you try to read Mark without understanding the literary genre of narrative, you're going to miss much of its beauty and meaning. Obviously, the Holy Spirit can still work, but in this particular instance you would be walking away from your devotional with an unbearable burden (you had better not deny Jesus today!) instead of wonderful, life-freeing truth (Jesus alone is the Faithful One of God's people, and he died for my lack of faithfulness). The genre track of equip•u will give you essential tools to seeing the beauty of Christ throughout the Bible.
Why you Need The Doctrines/Survey Track
If the literary styles track hones in on individual books of the Bible, the surveys track zooms out to the broad teachings of Scripture, connecting the books, themes, and doctrines of the Bible together. There are numerous wonderfully helpful things about this kind of study: finally understanding what in the world Leviticus is about and how it fits into the Bible's story, being able to understand how the New Testament applies the Old Testament (what should I do when a NT author quotes the OT?), getting a grip on the Trinity, just to name a few.
Let's try a practical example that will almost certainly happen to you at some point in time: Two Jehovah's Witnesses knock on your door and want to talk with you about spiritual things from the Scriptures. Literally, an evangelistic opportunity has been handed to you. The catch: Jehovah's Witnesses deny the deity of Jesus and have set (wrong) answers for the several New Testament texts that "straight up" say that Jesus is God (like John 1:1 or Titus 2:13). Is there any way to help these people see the errors they've been taught? And more importantly, is our belief in something as HUGE as the deity of Jesus based on only 4 or 5 Bible verses???
Enter biblical theology (connecting the Scriptures together). One key thing that the New Testament does is apply what the Old Testament says about God to Jesus. This is happening throughout the Gospels and in many passages from the Epistles—our belief in the deity of Jesus isn't just in a few clear verses, but in the multitude of ways that the New Testament attributes deity to Jesus through his actions that, according to the rest of Scripture, only God can do. In a particularly clear one, when Jesus calms the storm in Mark 4:25-41, the disciples ask, "Who then is this, that even the wind and sea obey him?" The answer from Psalm 89:8-9 is clear: "O Lord God of hosts, who is might as you are, O Lord, with your faithfulness all around you? You rule the raging of the sea; when its waves rise, you still them." Jesus does what God alone does—throughout the New Testament.
All of a sudden, if you're equipped to understand the depth and breadth of the Word, you've got a lot of ammo to lovingly help these people as the Lord leads (and to be rock-solid confident in a doctrine as essential and difficult as the deity of Jesus!) But you won't have that unless you get equipped in the doctrines and surveys of the Scriptures.


Why You Need the Principles Track
The final track offered in equip•u is the principles track—which takes the teachings of God's Word and applies them to cultural and every-day life issues. I will spend a little less time here because I hope that it is blatantly obvious that in our day, and with the multitude of issues we face, that this track is eminently valuable.
Think about some of the questions that we must answer to simply live day-in and day-out in our culture: Does God's Word have anything to say about your relationship with social media, or about how much time you should spend on your smartphone each day? Does God's Word speak to how you spend your time each week and how you use your weekends? Does it offer you help or a path forward when your church does something you seriously disagree with? Does it help you when those parenting techniques that used to work wonderfully are now terribly ineffective with your 12-year-old?
Most of us would answer those questions with—yes, of course it does. But we haven't taken time to deeply explore these issues and understand how the Scriptures apply to them. The principles track does just that—it takes God's Word and applies it to issues like your relationship with the local church, your work and stewardship, and cultural issues like the Christian and technology.
You have a wonderful opportunity this year to be equipped with skills and knowledge that will certainly bless your walk with the Lord. It is worth an extra hour and a half each Sunday.