Updates from the Elders
May 27, 2020
Sisters and Brothers,
On behalf of the Elders, I'm excited to share progress on the development of the new Student Life Center (SLC). It's unfortunate that due to the pandemic we are unable to meet in person and most of us don't have cause to visit our church campus. If we did, we would be able to see that the Lord is at work on our campus even in the midst of this pandemic. When last we met the future site of the SLC looked like this: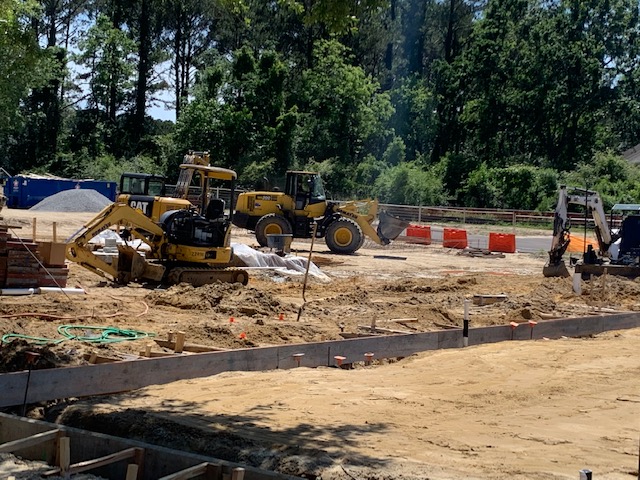 Now, it looks like this!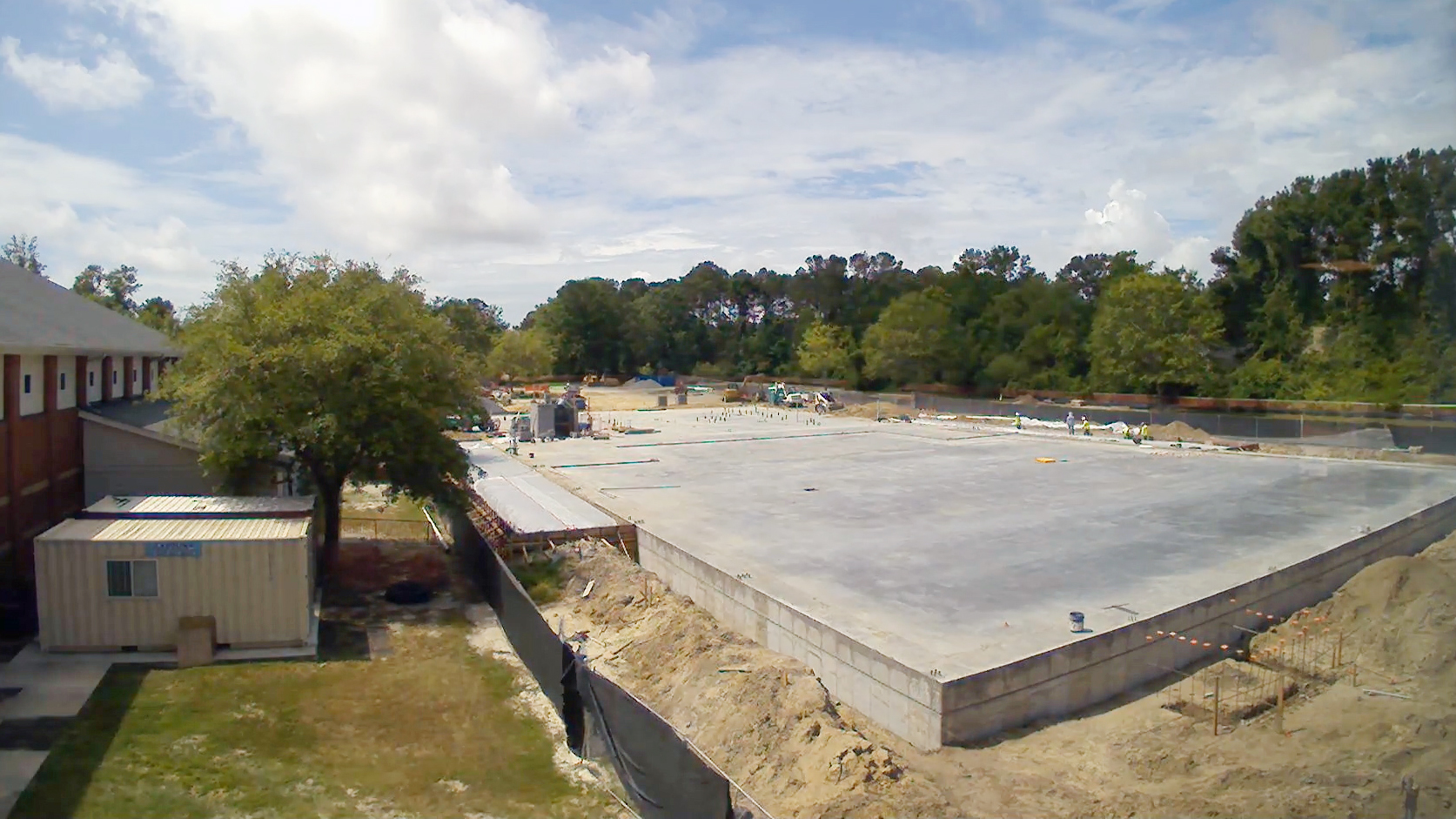 And, we will be going "vertical" with steel structure being delivered and installed this week! I can't help but reflect on the Lord's faithfulness that He will see us through our trials if we are steadfast in seeking to bring glory to Him (James 1:12). This pandemic will end; His kingdom is everlasting.
We've recently refocused our understanding of the purpose and intended benefits of the SLC project and incorporated it into a graphic:
As you can see in the graphic, there is much cause for praise! We currently have 83% of the total funds needed to complete the SLC in hand or committed. We are so very close to completing this project without the need for ECBC to incur any debt. We'll adjust and use the graphic to keep you apprised of future progress. You can always find the latest graphic, additional resources such as Frequently Asked Questions, and links to ways you can help make the SLC a reality on the ECBC SLC webpage.

I regret that we're not at 361 Egypt Road to see the physical cornerstone laid, but its significance pales in comparison to the true cornerstone of this effort - may our Lord Jesus Christ be glorified in this and all we do.
Rick Rummler
Elder Vice Chair
---
May 12, 2020
Sisters and Brothers,
As I pen this letter, church staff and leadership are finalizing plans for regathering once we can comply with federal and state guidelines. We will provide in-person worship for those wishing to do so while continuing virtual offerings for members choosing to wait longer. Additionally, there will be no childcare as long as social distancing is required.
Other church updates:
1. Vision Planning work continues: The team met in late April and will again this month to finalize their recommendations. The church leadership team (CLT) is discussing an implementation schedule to include communication, adjustment, approval and implementation over the fall.
2. SLC - The student life center pad has been poured and members will soon see structure rising. Further project communications will roll out next week.
3. Giving - The congregation continues to respond; thank you and thanks be to God. Giving during COVID-19 is behind budget but has significantly increased from the first month of not gathering. Overall year-to-date giving has remained above budget.
4. Payroll Protection Program grant/loan - We have provided updates with each member letter back to April 1st. Leadership had a tight window to assess and apply. Giving the first four weeks of COVID-19 was 35-40% below budget. Our options were to apply in hopes of some allocation or release multiple employees in a stopped economy. After researching, discussing and praying over the theological aspects, the CLT voted to apply. We received $1.3 million for church, PCA, and Campus Outreach payroll. Federal guidance regarding grant versus loan stipulations continues to evolve. If a portion of the allocation is determined to be a loan the interest rate is 1% and payback is 24 months. The CLT will discuss further options tonight and continue to keep the congregation informed.
Please continue to pray for each other, leaders throughout the world and within our country, and for front-line workers. Pray also for our Lord to walk beside those who are experiencing loss whether through family deaths, social distancing, or economic hardship and look for ways to help. Please also continue to participate in worship.
Our community group is studying Romans and it is such a blessing to do so as Buster and other pastors encourage….preach the gospel to yourself often. "For I am sure that neither death nor life, nor angels nor rulers, nor things present nor things to come, nor powers, nor height nor depth nor anything else in all creation, will be able to separate us from the love of God in Christ Jesus our Lord". Rom. 8:38-39.
Blessings!
Jeff Armfield
Elder Chair
---
April 28, 2020
Sisters and Brothers,
It was great seeing some of you Friday evening at the church-wide prayer (via Zoom). If you weren't able to join last Friday, check the church website and try to participate this week. Please also check the other announcements and devotionals posted on the website.
As our Lord uses current events to remind us that everything of this world is passing away, please take comfort in the fact that our relationship with Him is eternal. We continue to pray the virus will motivate those who have not accepted Jesus as Savior to call out to Him, and that each of us will be prepared to share the joy that is within us!
Some of our congregation are suffering the loss of family and friends during this time and with social distancing restrictions, it is difficult to grieve with them. Others are watching significant events like graduations, retirement, anniversaries, birthdays, and others pass by without the usual celebrations. Members are dealing with illness and loss of income. I hope you'll stay in touch with other members to encourage and comfort one another. If you are in need please let the church know or contact me.
A few church updates:
ECBC received the payroll protection SBA loan last week. The church filed for this on behalf of all church, PCA, and CO employees.


Giving on the last few Sundays has been at or above budget. Thank you.


Vision Planning is continuing with our team meeting tomorrow and Wednesday, and again in May to finish the fieldwork. The team will then make final recommendations.


The Church Leadership Team (CLT) continues to meet weekly and our Serving Elders Team meets monthly. The CLT has asked each of the Elder Ministry Teams for a status update. If you have any concerns or suggestions please get in touch with an elder or me.



Some of the Student Life Center contractors have been impacted (at least indirectly) by COVID-19 so the timeline has slipped a little, but construction continues and further communication will be rolling out shortly.
Father, you are worthy of all praise! We humble ourselves in gratitude for your provision and ask for your mercy. Forgive our sins. Work in each of us as You work in the world through this time to bring glory to Yourself as the one and only God. We ask you to guide those You have placed in positions of leadership. We request You protect those who are most exposed to this virus. We pray for the relief of our fellow members' suffering. Help us to encourage and strengthen each other and show all those around us the assurance that comes from trusting Jesus, for it is in His name we pray.
The Lord bless you and keep you; the Lord make his face to shine upon you and be gracious to you; the Lord lift up his countenance upon you and give you peace. (Numbers 6:24-26)
Jeff Armfield
Elder Chair
---
April 13, 2020
Sisters and Brothers,
I hope you were blessed by the Easter virtual services Friday evening and Sunday and are accessing the devotionals and midweek study on the website. Ministry leaders are assessing additional offerings given virtual church may continue for a period. We are all encouraged to focus first on Christ every day, reach out to three brothers or sisters and seek to serve others.
The church leadership team is meeting weekly via Zoom. We held a serving elder council Zoom meeting last week and will be discussing more frequent serving elder meetings electronically during the social distancing. We welcome your input or questions.
The church has filed an SBA loan request to assist us in retaining employees during the pandemic as general giving is consistently running about 35% below historical levels. The church is reducing variable expenses but fixed costs including payroll, benefits, mortgage and insurance are about 75% of total annual expenses. If the SBA loan is received it would provide about 10 weeks of assistance as we consider options for reducing fixed cost. We recognize and are praying for members who have been physically, emotionally and/or financially impacted by the pandemic. All we have belongs to God as we are His stewards. Please pray that He would enable all of us to be obedient with resources during this time of special need.
SLC construction continues though contractors are experiencing some slowdown due to workers socially distancing, We have approximately 85% of funds (cash and pledges) needed to build the project with the bulk of this money coming from non-members thus continuing construction is not impacting the church's ability to pay operating costs (which come from the general fund) at this point. We will continue to review the project and funding status weekly.
If you have specific concerns or needs please contact the church either by phone or email, contact an elder or me. Please continue to pray for God's grace and glory that we are bold and loving in proclaiming Jesus our Lord during this time and God would bring souls to faith in Him through this pandemic. Please also continue to pray for protection and strength for our caregivers and wisdom for the church staff and leaders.
All Glory be to God through our Lord Jesus Christ,
Jeff Armfield
Elder Chair
---
April 1, 2020
To: ECBC Church Family
From: Elder Leadership
Subj: Update on ECBC
Brothers and Sisters:
Plans continue for ECBC to provide communications and resources during this time of social distancing. As we obey the governing authorities we do so by modifying the ways in which we worship, fellowship and serve.
The primary touch points for immediate needs are the church phone and website. Pastors are rotating on-call status during church office hours. Staff and leaders will reach out to members on a weekly basis at least until we are able to physically assemble together again. Buster encourages us to start the morning with study (Bible study, devotionals, etc) and prayer. We should communicate with at least three people daily (keeping social distance or calling) and look for a weekly service/sharing opportunity. Church leadership continues to meet electronically and welcomes suggestions. The vision planning team is completing their task to prayerfully identify how we can best serve our Lord in the future.
General fund giving was well below budget the last three weeks. Many of our brothers and sisters are being financially impacted by the shutdowns and social distancing mandates. If you are able to increase or front-load your tithes and offerings please prayerfully consider doing so. Leadership and staff have executed some expense reductions and identified others should further reductions be necessary. We are also assessing the recent federal aid program. There is sufficient cash specifically given for the student life center to continue construction for months and leadership will be reviewing buildout options.
We plan to continue virtual church through the month of April and encourage small groups to stay in touch with each other. On the church website you will find devotions, instructional videos, electronic mediums, and resources referenced to encourage us to carry on community, prayer, worship and study.
The elders greatly appreciate the church staff (pastors, ministry leaders & associates and support staff) who have worked diligently to adjust and serve our Lord, love our members and respond to the community during COVID-19. Join us in praying for those impacted by the virus and our medical workers throughout the world. Petition God through Lord Jesus to have mercy on us and bring glory to Himself during these times.
As Buster's Sunday message and devotion earlier in the week reminds us, we are not our own, we belong body and soul to Jesus Christ. He sits at the right-hand of God petitioning on our behalf. Not a hair falls from our heads without our Father's knowledge. I encourage myself and each of us to bring glory to God in how we respond!
On Behalf of the Elders,
Jeff Armfield, Chair